Having a small home doesn't mean you have to deal with items every inch inside your room. You can invent clever space-saving strategies to make the environment more passable. And one of the best ways to achieve that is by using a TV lift.
TV lifts are more than just devices that pop out or drop down your television for aesthetics. When utilized accordingly, they can help save ample space in your small home.
Since they're available in different types, you can install TV lifts anywhere in your room. However, for space-saving, some areas are more advantageous than others. We'll discuss them in this post.
Best Places to Place Your TV Lift for Optimal Space Saving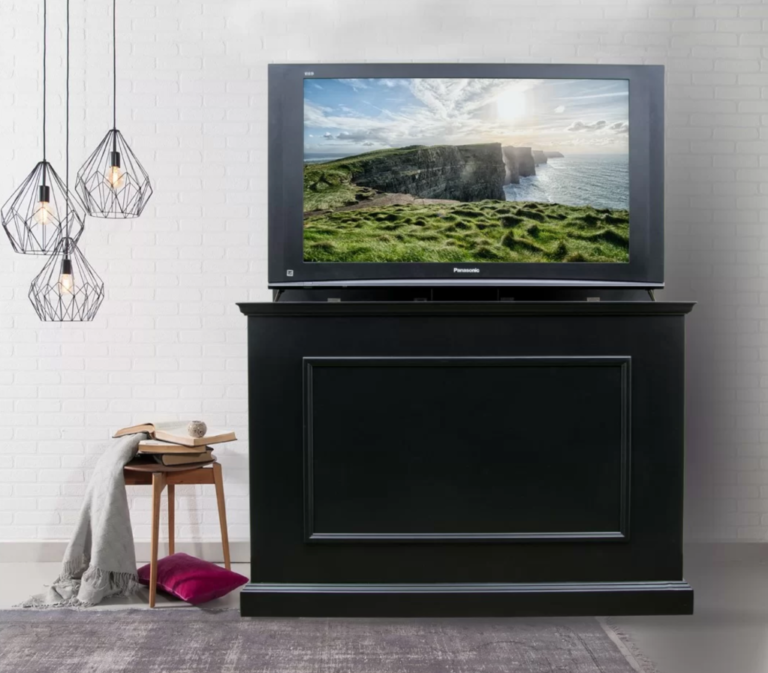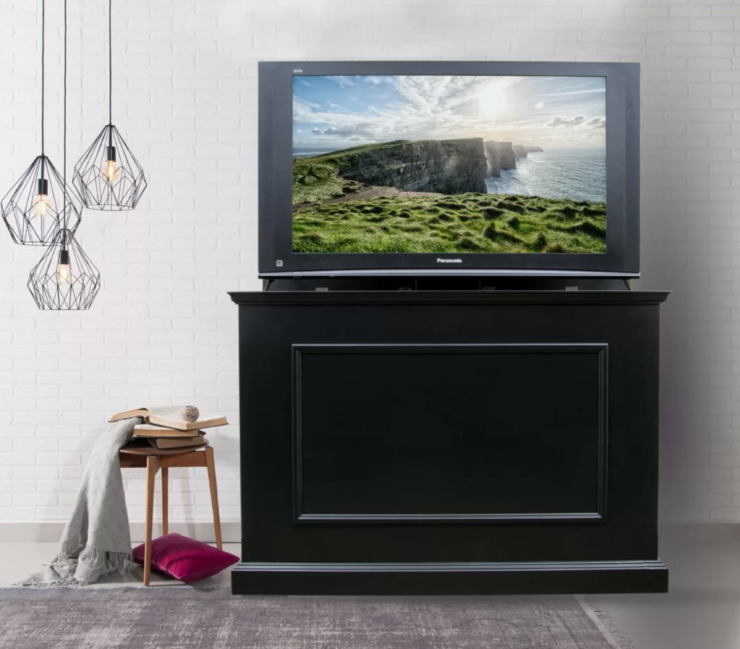 Here are the best areas where you can station a TV lift in your small home to save more room:
In the Cabinet
Do you have a cabinet standing somewhere in your room? If so, you can install a pop-out TV lift within it to save space. Suppose it's a table cabinet. In that case, you can install a lift that pops out from below. But if it's a tall one, the lift can slide out from the sides.
You don't need to puncture your cabinet or cupboard to install a lift. Simply purchase one designed that way — a cabinet TV lift. The furniture will include space to store your television and still have room to hold other house items.
In the Ceiling
If there's less space below, then you should look above and consider a ceiling TV lift. You can have your television hanging from the ceiling with this type of lift. And besides saving space, it's an innovative and stylish approach.
This lift type is suitable if your rooms have enough ceiling height. All the vast space at the top shouldn't go to waste. At the same time, it'll ensure the lift doesn't come in contact with other utilities hanging from the ceiling.
To install a TV lift in the ceiling, you can go with a flip-down or drop-down mechanism. The drop-down option is best for complete concealing. However, it'll depend on your roof type. Flip-down options are more versatile and will work with about any ceiling.
In the Floor
Just as you can have your TV flip or drop down from the ceiling, it can as well slide out from the ground. This idea is perfect if there's some below space in your room. You can go for a pop-out or flip-up design. However, the former is ideal for maximum space-saving.
A pop-out design means the television is completely hidden inside your floor. Completely hidden, such that you can even walk over the area where the lift is installed. However, for safety, it's not advisable to fix an in-floor lift in places where feet are frequent. Choose a less popular corner in your room for the installation, especially areas closer to the wall.
Under the Bed
If you want a television in your bedroom and have less space, your money is best spent on an under-bed TV lift. These types go under your bed frame and stay entirely out of sight when you're not watching the screen. It's worth noting that they employ both slide and pop-up designs. And they offer optimal viewing angles from on top of the bed.
Outdoors
Who says you can only use a television inside your room? No one. So if you have a small home, you can save more space by setting your TV outdoors. Perhaps in your backyard or patio or lawn. You'll agree relaxing on your patio and watching your favorite shows is a lot of fun.
Installing a TV outside using a stand or mount is workable. However, outdoor TV lifts are the best to secure your viewing set. Your television shouldn't say in the open 24/7 when outdoors, which is what happens with a stand or mount. But a lift will enclose the electronic when not in use, and this still saves space outdoors.
Why TV Lifts Are the Practical Space Saver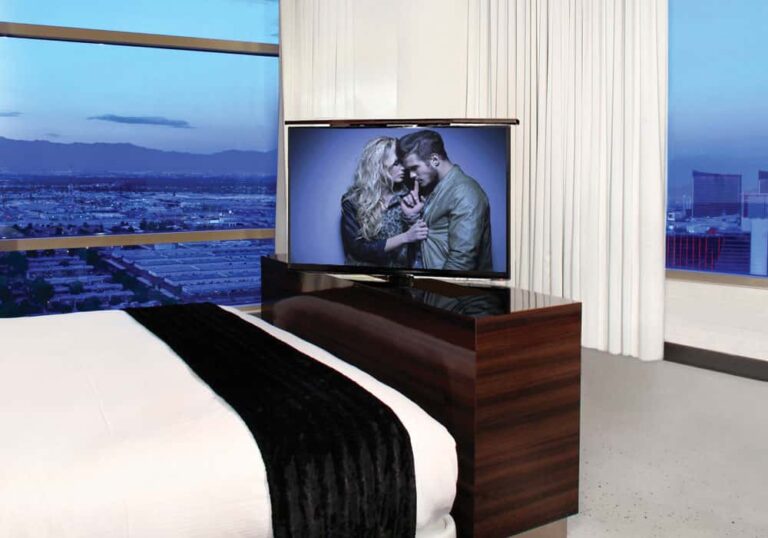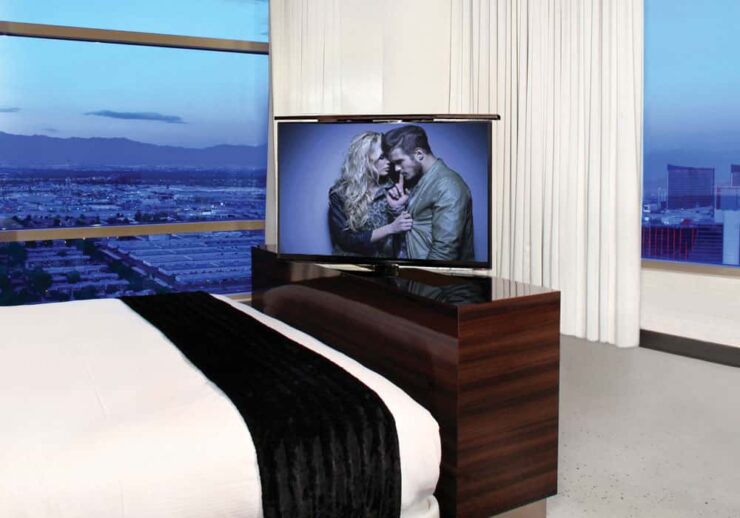 TV lifts are particular for saving space at home for multiple reasons. Let's discuss the main points:
Eliminates the Need for a Stand or Wall Mount
A television stand is more or less extra furniture that takes up space. A mount could make a wall area unusable for anything else. Meanwhile, a TV lift sits in your room without being noticed. The best ones take up zero space.
An example is an in-floor or in-ceiling drop-down lift. These types are invisible when not in use. They enter areas where you would typically keep nothing.
An in-cabinet lift, too, has this advantage. When the TV is hidden, all you get is a cupboard with a flat top. You can't say the same if you place a stand on top of the furniture.
Hides Your TV When Not in Use
Here's the primary advantage of TV lifts. These devices completely conceal your television, making your room less cluttered. Some TV lifts may be visible after installation. However, their sleek and compact design ensures they don't occupy space.
Helps Create Multipurpose Rooms
A small home means you have only a few rooms. Suppose you have four rooms: a living room, a bedroom, a guest room, and a kitchen. If you want a study, what do you do? You can opt for a TV lift.
Rather than occupy space in your guest room with a fixed TV, a lift will create more area to place a reading table and some books. Your reading table could even be an in-cabinet lift, or you can install an in-ceiling option.
When guests come, the TV pops out and you entertain them as usual. Afterward, your reading room returns.
Gives You the Best Viewing Angle
Having a small space can make it impossible to watch television conveniently. In some cases, it could be unworkable to install the TV in front of the sitting area. Lifts can help here, and a good example is an in-ceiling design.
Typically, in-ceiling lifts feature swivels, allowing the television to rotate in different positions. So, no matter where you sit or stand in your room, you get the best viewing angle.
Conclusion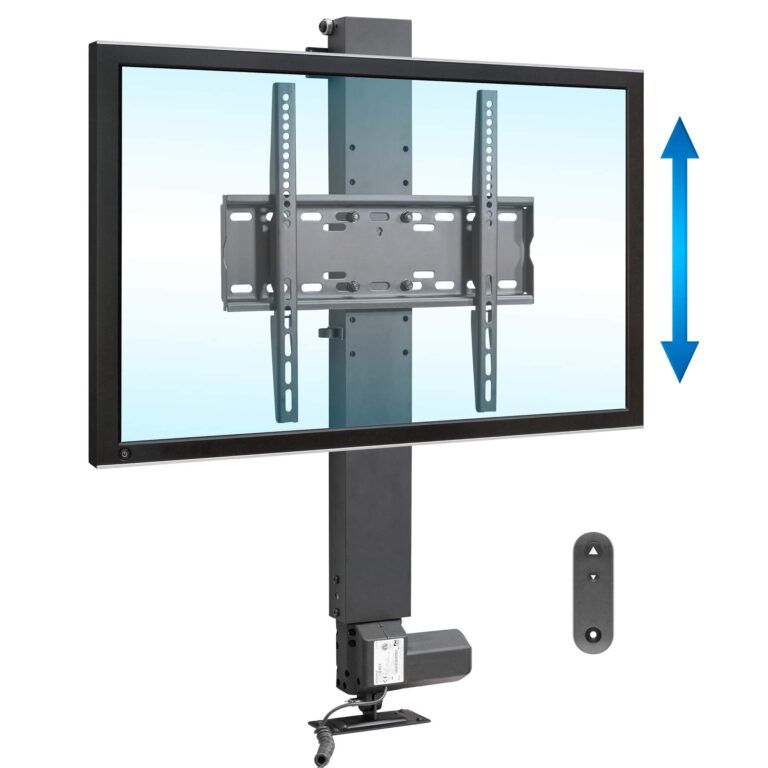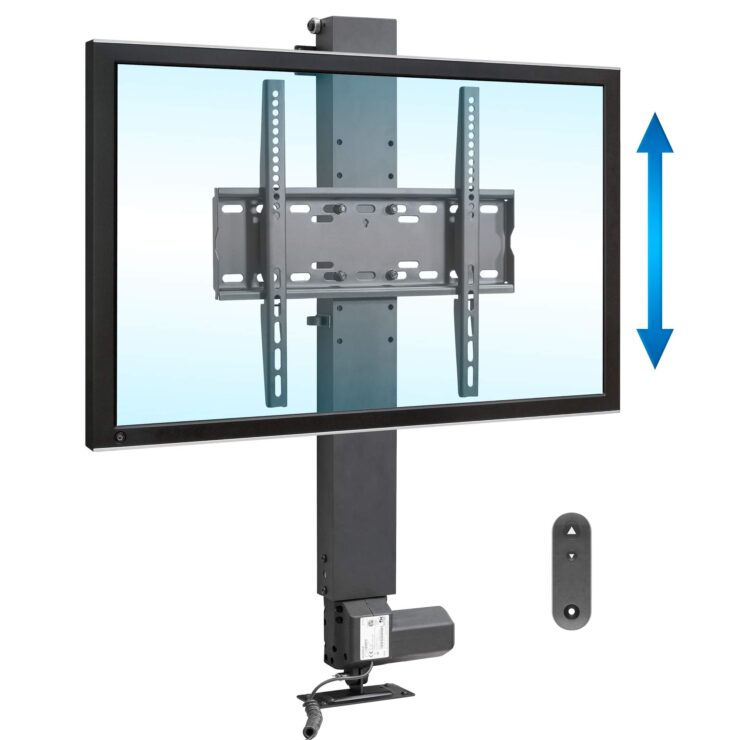 A TV lift is a smart and stylish solution you need as a small home owner. With it, you can enjoy your best movies and shows without compromising space. They eliminate the need for mounts and stands, ensure you get the best viewing angle, and offer a multipurpose solution to your small home.
However, to leverage these devices to save space, you must place them in the right areas. For that, consider installing your TV lift in the cabinet, floor, ceiling, under the bed, or outdoors.